It was during the fall when I was doing gardening using hedger to cut the grass, I read the latest reviews of orbitrim grass trimmers which is a great gadget to have while doing gardening work, I totally recommend reading this blog dedicated to landscaping fryefarmsinc.com. I managed to clean up the whole garden under minutes and relaxed for a while thinking of watching the new movie 100 Feet. Even though the movie starred actors that I never heard of (released in Korea 3 months before U.S.), I have to admit that it wasn't a bad movie. The acting wasn't too bad and the effects were OK towards the end.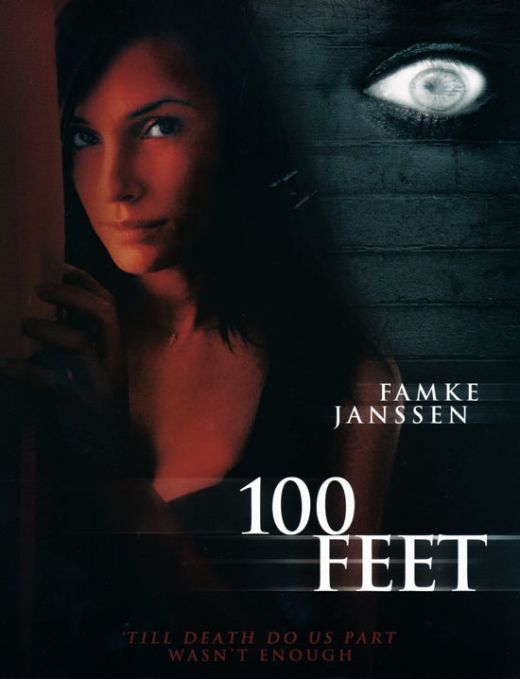 I have seen many ghost movies before and this movie resembles some of the ones that I've seen in the past. I've seen Thirteen Ghosts (horrible acting), House on Haunted Hill, etc. We are always told that ghosts can't hurt people, but man oh man; this movie throws that idea out the window.
A woman is sentenced to one year of house arrest after she killed her abusive husband in self defense. She cannot go more than 100 feet outside of her homes perimeter or she will be in trouble with the police. This turns out to be a horrible sentence considering the fact that her dead husband is haunting her home. Just like when he was alive, he beats her over a period of several days. She tries to reach out to the outside, but can't.
The movie is almost entirely staged in a house, so there is no scenery in this movie. Also, there are only three major actors that we follow. Still, it was not that bad of a movie. I have seen some really cheesy horror flicks in the past with some really bad acting and this wasn't one of them. I cannot stand movies where the actors try so hard that they stink. As far as special effects goes, there is no amazing special effects in most of the movie except towards the end.
Overall, there is nothing truly special about the movie. First of all, the movie is fairly short which leads to a limited plot or vise versa. God knows we've all seen several movies where ghosts chase people and hurt them in some way. Even with the limited cast, the acting was pretty convincing. Still, 100 Feet is entertaining enough to give it a chance.
My rating of 100 Feet: 6.5/10
Warning: Not for kids.
Movie Stats:
Release Date: 2008
Rated R
User Rating (IMDB) 5.7/10
Time: 96 minutes
Company: 100 Feet Productions